Induction Hardening
High-Frequency Generator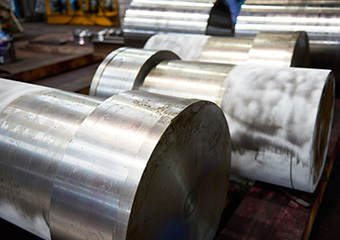 The energy-conserving, all-solid-state type high-frequency generator delivers high-efficiency and stability in a compact package, and is the choice of many customers. The standard model supports frequencies from 20 kHz to 200 kHz, and outputs of 1 kW to 200 kW.
Advantage
feature1Surfaces can be hardened in a very short time of period.
feature2Hardened depth is adjustable.
feature3Heating of limited areas is possible.
feature4Uniform, high-quality hardening is obtained.
feature5Hardening achieved at very low cost.
feature6Workpiece materials may be changed from high priced alloy steel to inexpensive carbon steel.
Applications
Continuous annealing, such as pipe, electrical wire, steel wire, etc.
Heating power supply for MOCVD, vapor deposition CVD, magnetic levitation
Various processing, including hardening, brazing, dissolution, etc.
SiC (crystal, CVD, annealing)
Characteristic
Compact design: Volume ratio 61% Footprint ratio 71% (Internal comparison for output 200kW)
Supports a wide frequency range: 1kHz to 400kHz
Supports a wide output band: 10kW to 200kW
High reverse conversion efficiency: 90% to 95%
Options
Heating coil
Mechanical system
Output switch unit (automatic / manual)
Frequency switch unit (automatic/ manual)
JMT transistor inverter series standard specifications
Model
Output power
[kW]
Frequency
[kHz]
Input voltage
[V]
DC voltage
[V]
DC current
[A]
JMT-15
15
1~400
3φ、220
260
65
JMT-30
30
1~400
3φ、220
260
130
JMT-50
50
1~400
3φ、220
260
220
JMT-100
100
1~400
3φ、440
520
210
JMT-150
150
1~400
3φ、440
520
310
Model
DC output
[kW]
AC input
[kVA]
Weight
[kg]
Cooling water
[L/min]
Unit dimensions
[mm](W×D×H)
JMT-15
16.9
20
165
10
600×450×1200
JMT-30
33.8
40
180
20
600×450×1200
JMT-50
57.2
65
195
20
600×450×1200
JMT-100
109.2
130
660
45
1000×955×1750
JMT-150
161.2
195
680
60
1000×955×1750
※Specification may be revised without notice as improvements are made.
HF Generator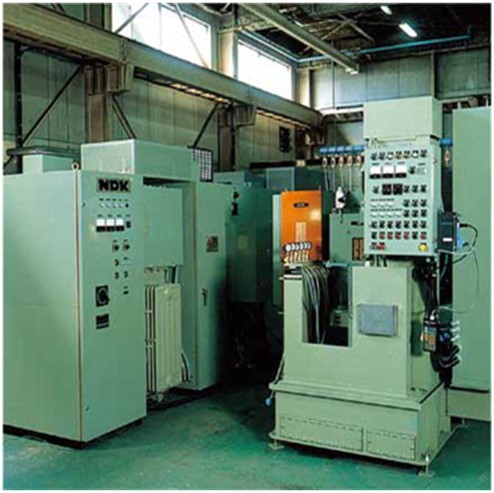 H-100D HF Generator
[100kw output,10/100kHz switchable]
Induction heating using RF current is now widely utilized in industries for applications such as hardening/tempering/annealing of steel, forging, melting, brazing, etc. There are several types, including the vacuum tube type, transistor type and thyristor type, which are selected for the application according to their different characteristics.
Based on more than 50 years of experience and unrivalled expertise, NDK can meet any customer requirements in this area.
Principle
When the metallic workpiece is placed in a coil, an RF current is applied to the coil, and RF current is induced on the surface of the workpiece causing it to heat up. The heated portion is quenched by using coolant such as water to harden.
High frequency generator standard specifications
Spec\Model
JMT-series
Transistor inverter type
JHS-series
Conventional Vacuum tube type
Input power
[V(three phases)‐kVA]
200-440・20-260
200-440・10-450
Frequency range
[kHz]
1~400
20~400
Nominal output power
[kW]
15~200
5~200
Cooling water
[L/min]
60~150
22~300
※Specification may be revised without notice as improvements are made.
Hardening Machines
N-2QM series hardening machines are designed for hardening of small size gears, cam shafts and rod type products. The N2-QM model transfer distance is standardized to 600, 900, and 1200 mm.
Special purpose or automated machines are available upon request.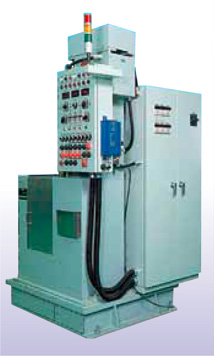 N-2QM series hardening machine with integrated control and operation board(PSW programmer)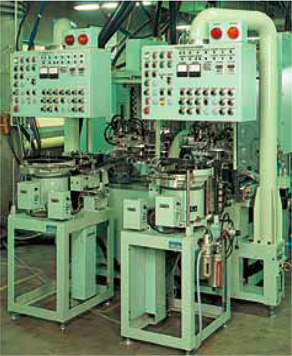 Automated hardening machine for small parts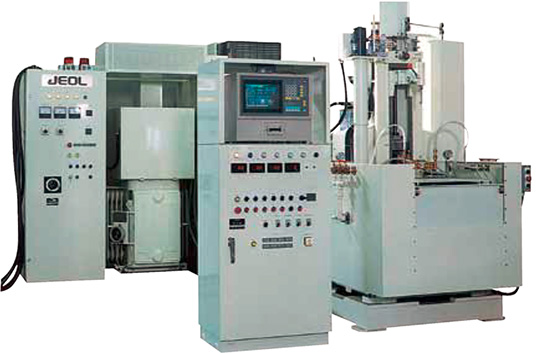 Vertical type computer-controlled hardening machine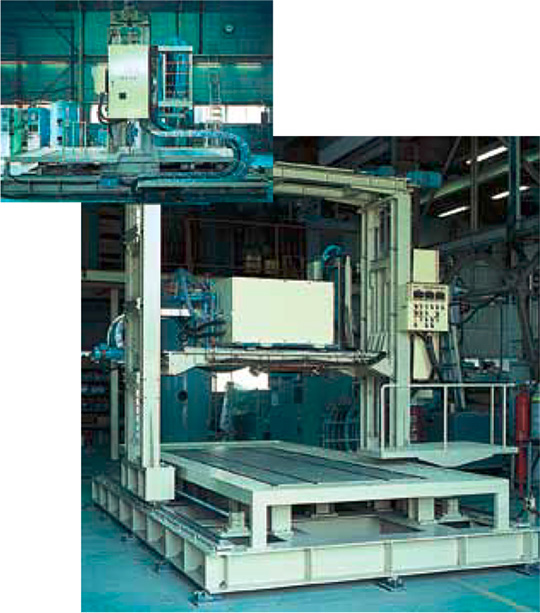 Bed type hardening machine
2 m [W] × 4 m [L], 4 m-stroke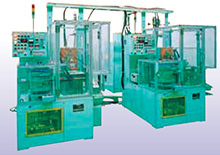 Automated hardening machine in nitrogen atmosphere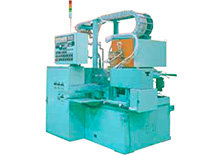 Automated horizontal type hardening machine for shafts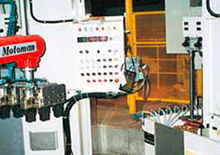 Robot in operation and vertical type hardening machine
Water Cooling Unit
This is a water cooling unit to control the cooling water temperature for the HF generator and coolant.