Radical Nitriding
Radical Nitriding Equipment
A radical nitriding system is configured of a furnace (vacuum-resistant, heat-resistant container), an electric heater, a vacuum evacuation device, a gas supply device, plasma and heater power supplies, an operation and control device and an exhaust gas processor.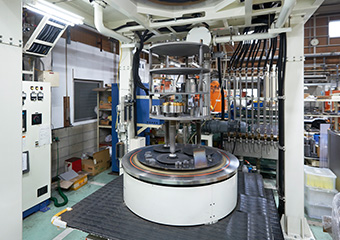 All the operations are performed fully automatically according to the preset program. An abnormality during the operation is immediately handled according to the situation.
Advantage
feature1Since gas ions are not used during heating, countermeasures to arc discharges during heating and localized discharges are easy.
feature2Uniform heating by use of the electric heater improves the temperature distribution during the processing and easily achieves the uniform processing temperature.
feature3High-quality processing can be achieved by precisely setting the optimal nitriding conditions for each grade of steel. It is also possible to create compound layers with the nitriding process. (However, the finishing will be the same as for ion nitriding.)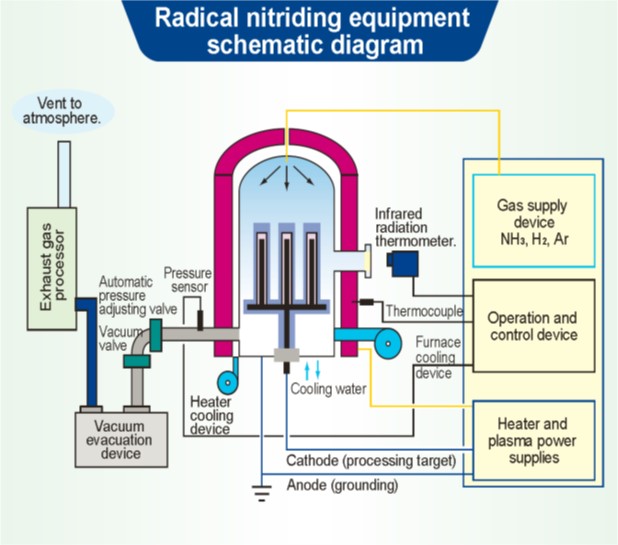 Radical nitriding equipment standards
Model
Effective dimension
[mm](φ×H)
Processing quantity
[kg]
Proocessing temperature
[℃]
JRN-4040VS
400×400
50
450~550
JRN-6060VS
600×600
300
450~550
JRN-8565VS
850×650
500
450~550
JRN-100150VS
1000×1500
1500
450~550
Model
Heater output
[kW]
Input power
[kVA]
JRN-4040VS
18
42
JRN-6060VS
60
77
JRN-8565VS
80
100
JRN-100150VS
88.8
130
※Specification may be revised without notice as improvements are made.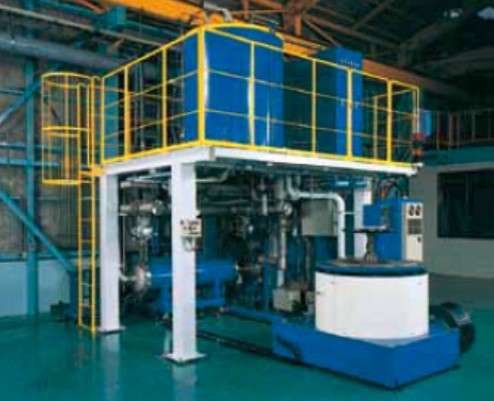 JRN-VS-E6060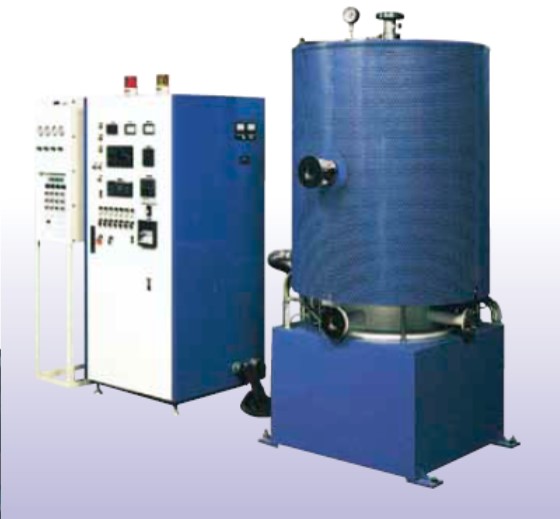 JRN-4040VS-E
Radical Nitriding Method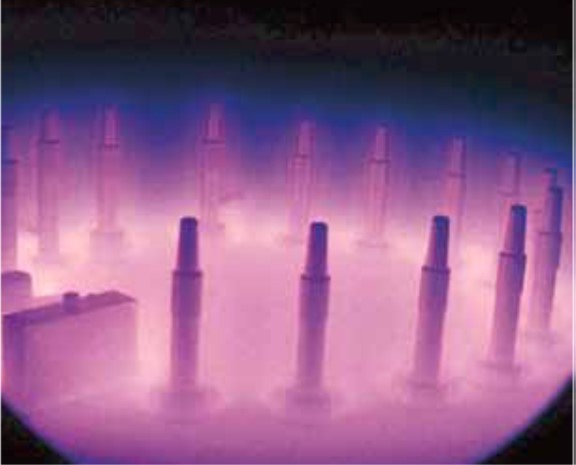 Unlike conventional nitriding methods, like gas nitriding, with radical nitriding it is possible to perform the processing without forming a compound layer. This is a plasma surface processing method based on new concept.
In radical nitriding, conditions like the gas flow, processing pressure and plasma output are controlled with high precision, and the nitriding is performed with a suitable radical having a high nitriding effect. By controlling the quantities of ions and radicals generated during the nitriding process, it is possible to perform the nitriding while suppressing the formation of compound layers.
Advantage
feature1The occurrence of heat cracks and defects of the edges that arise on dies and tools due to the compound layers can be improved. Furthermore, there is no distortion or dimension changes due to a compound layer.
feature2The optimal nitriding conditions can be selected for each type of material and part shape; and masking is easy.
feature3The post-processed surface condition is excellent, with negligible surface roughness.
feature4For composite processing, like PVD, it is possible to mitigate the large differences in hardness between the product surface and the hard coating and further enhance the PVD processing effect.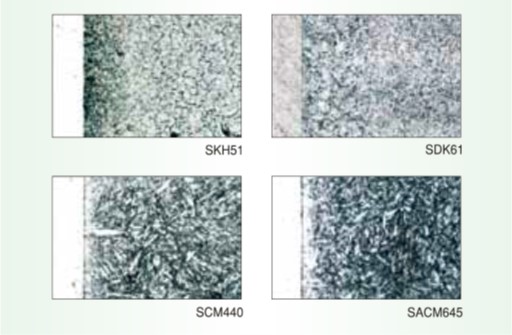 Microstructures after radical nitriding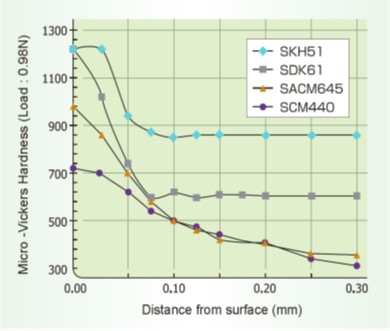 Hardness profiles after radical nitriding